Will Laura Wake Up Again?

This week on General Hospital, the window closes on the effectiveness of LS-49, and Laura slips back into her catatonic state... but not before some heart-tugging, 12-hanky drama! Is it good-bye to Laura forever?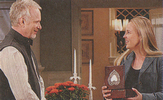 The In Depth Story: While some lash out at Luke for withholding that Laura's recovery is temporary, Laura herself defends his actions and tries to rally her family for what turns out to be her "final days" with her loved ones. Grateful to Luke for giving them all this limited amount of time together, Laura asks them to focus on the moments that she has left and encourages her children to remember the past few joyous days they've shared before she again slips into a deep sleep.

Not Home For The Holidays

Knowing that Laura will likely not last until the holiday season, the Spencers gather to celebrate a very special, very early Christmas instead of Thanksgiving. While Luke and Laura share some laughs with their children, it's not long before she begins to fade.

After Laura checks herself back into Shadybrook, Lucky, Nikolas, Lulu and Luke begin to share emotional good-byes with their mother. But a shocking confession that Laura whispers to one of her loved ones just before she slips away lingers for that person like a lead balloon -- and gives them a very powerful piece of information.

Hope For The Future

As far as Genie Francis (Laura) is concerned, the door is remaining open for another visit. "I would love to return again... if they could," she tells Soaps In Depth. "I would hope that [should I return again], they write a little bit more for Laura to do, because this visit has sort of been a quick thing. And it's been a little frustrating in that I feel like we've glossed over so many things."

Francis' television husband, Anthony Geary (Luke), adds that in the world of daytime dramas, there's always a loophole to be found allowing for such a return. "I've been a paraplegic. I've been dead. I've died in my own arms. Anything is possible here," Geary jokes about the possibility of Laura making a miraculous recovery sometime in the future. "This is a soap opera. That door is never closed. It's more of an opportunity for the audience to experience Laura rediscovering her family and what today's life in Port Charles is like."

Facing The Past

The startling piece of information Laura reveals to a member of her family shakes things up good. "Guza's on it, right down to my exit line," Francis says. "It's really powerful. It's clever in that it's going to spur on a nice story for the people remaining."

Laura's monumental revelation will have old-time GH fans looking to the past for answers. In fact, it was a story idea that Francis herself thought of. "Before I left the first time, I went upstairs and I said, 'Look, I have an idea of a way to pull this together.'" Unfortunately, her exit was already written and it couldn't be changed. However, ABC gave her an opening. "They said, 'We're sorry, we can't change it now. But if you do come back, we'll deal with it then."

An Emotional Good-Bye

Unfortunately for Luke and Laura's fans, until that day comes, they -- much like the Spencer clan -- are just going to have to cherish the memories created by Laura's brief return. All in all, Francis thinks her short stay went well. "The final week is one [in which] you can't miss an episode," she hints. "You miss something, and you missed it! They wrote it so tightly that it's all there. That's the week you must watch!"